Texas Hunter Fish Feeders & Cargill Fish Feed
We are dealers for the Texas Hunter products including the automatic fish feeders. We also use and sell Cargill Fish Feed that is made in Franklinton, Louisiana.
To grow your fish as quickly as possible, you need a dependable feeding strategy. Texas Hunter products and Cargill feed can help. We are often asked about what we feed and if we use automatic feeders. We are proud to be selling the same products that we use here at the farm to help grow our fish. We started feeding the Cargill feed around 15 years ago and have been happy with the results.
---
Cargill Fish Feed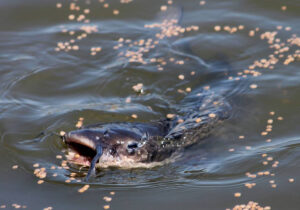 2023 Price List
(Please call for availability on Pick Up) We also have different sizes and higher protein feed available.
36% Protein 6% Fat Floating Pellet in 3/16 Inch size 50lb sack – $45 (For Larger Fish & Koi)
45% Protein 12% Fat Floating Pellet in 2.2 mm size 50lb sack – $75 (For Small Fish & Koi)
---
Texas Hunter Fish Feeder Brochure
TEXAS HUNTER FISH FEEDER – 70 LB. FISH FEED, 125 LB. CORN CAPACITY – AVAILABLE WITH ADJUSTABLE OR STRAIGHT LEGS *Prices Updated February 2023*
$1249 or $1388 with optional Solar Charger for Directional Feeders – Contact us for Shipping Quotes to your Home
Offers a 70-pound fish food capacity or 125-pound corn capacity
Premium Digital Timer feeds up to nine times per day
– Run times and test runs range from one to 60 seconds
– Run Time 1 to 60 seconds
– Includes a five-year limited warranty
Features a forceful centrifugal air blower system
Dispenses feed in 20-foot by 45-foot wedge pattern
Comes with adjustable legs for easy placement on a small lake or pond bank, including stabilizing stakes with foot pads
Compatible with optional 2-watt solar charger Model SP2W
Low-profile design allows for easy filling
Latchable lid and lockable door protect feed, timer and battery against any weather condition
Includes a 12-volt rechargeable battery
Reduces feed drop within 3 to 5 feet of the feeder
Powder-coated finish and galvanized steel hopper guard against rust
Two sight gauges make it easy to check feed levels on land or from the water
Fast shipping through UPS Ground
Built in America under U.S. Utility Patent #7222583
---
TEXAS HUNTER FISH FEEDER – 175 LB. FISH FEED, 300 LB. CORN CAPACITY – AVAILABLE WITH ADJUSTABLE OR STRAIGHT LEGS
$1399 or $1538 with optional Solar Charger for Directional Feeders – Contact us for Shipping Quotes to your Home
Large 175-pound fish feed or 300-pound corn capacity
Powerful centrifugal air blower
Adjustable legs that allow placement on nearly any lake or pond bank, as well as stabilizing stakes and large foot pads
Rechargeable 12-volt battery and battery tester
Optional 2-watt solar charger Model SP2W, which can attach to any side of the feeder
Low profile design that enables faster, easier filling
Two convenient sight glasses to view feed level
Galvanized steel hopper and a premium powder-coated finish for increased rust resistance
Premium Digital Timer that feeds fish between one and nine times every day
– Enables test runs and run times of one to 60 seconds
– Has a five-year limited warranty
Reduces feed drop within 3 to 5 feet of the feeder
Powder-coated finish and galvanized steel hopper guard against rust
Two sight gauges make it easy to check feed levels on land or from the water
Fast shipping through Motor Freight
Built in America under U.S. Utility Patent #7222583
---
TEXAS HUNTER FISH FEEDER – 250 LB. FISH FEED, 425 LB. CORN CAPACITY – AVAILABLE WITH ADJUSTABLE OR STRAIGHT LEGS
$1594 or $1733 with optional Solar Charger for Directional Feeders – Contact us for Shipping Quotes to your Home
Capacity for 250 pounds of fish feed or 425 pounds of corn
Feed projections of 20 feet by 45 feet in a wedge-shaped pattern
Rust-resistant galvanized steel construction and durable powder-coated finish
Premium Digital Timer that can dispense feed up to nine times per day
– Run time and test run time of one to 60 seconds
– Five-year limited warranty included
Adjustable legs, large foot pads and stabilizing stakes you can place on nearly any lake bank
Included 12-volt rechargeable battery and a battery tester
Texas Hunter Products' patented centrifugal air blower system
Available connection to an optional 2-watt solar charger Model SP2W, which can mount to any side of the feeder for maximum light exposure
Low profile for fast filling
Reduces feed drop within 3 to 5 feet of the feeder
Powder-coated finish and galvanized steel hopper guard against rust
Two sight gauges make it easy to check feed levels on land or from the water
Fast shipping through Motor Freight
Built in America under U.S. Utility Patent #7222583
---
TEXAS HUNTER HANGING FISH FEEDER WITH HANGING BRACKET
$650 or $789 with optional Solar Charger – Contact us for Shipping Quotes to your Home
Up to 50-pound fish feed capacity
Hanging bracket included, place over lake or pond
Highly accurate EZ Set Digital Timer, feeds fish up to 9 times per day
– Run time 1 to 60 seconds per feed event
– Includes a five-year limited warranty
Built-in galvanized funnel
Galvanized steel construction and powder-coated finish to resist rust
Baffle options for multiple feed patterns
12 Volt rechargeable battery included
Pre-drilled for mounting optional solar charger Model SP12
Premium stainless steel spinner plate
Premier 12-volt high torque motor
Built in America under U.S. Utility Patent #7222583
---
---